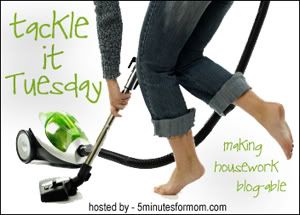 Today is CLR tackle it tuesday!! I am participating in a contest and as a result, I received a free bottle of CLR Bath & Kitchen Cleaner in the mail. All I had to do to enter the contest is use this cleaner with my tackle! Easy enough:)
I decided to tackle my refrigerator! I haven't cleaned it since we moved in (last July) - and well, I don't want it to get crazy disgusting. (I think it was on it's way!)
One thing I heard about having stainless steel refrigerators is that it attracts little finger prints. NOT A MYTH!
See the prints??

And now for the inside ...... EEEEEEEEK!!!!
Remove all the food and we have some sticky icky grime and slime in there!

CLR to the rescue!!

So much better:)
CLR even removed all the little smudgy fingerprints!
I didn't read all of the directions and I did NOT wear gloves while cleaning. My hands are still in tact! I think CLR is a pretty decent cleaner. I thought the smell was a bit strong. Not a bad smell, just strong. I am sensitive to quite a few cleaners, however, so I am not surprised. I will continue to use CLR in my kitchen and bath! I like it:)
****LATE AFTER NOTE****
After reading and viewing some other people's tackles - I regret choosing the fridge for my CLR tackle! CLR is best used for calcium, lime and hard water deposits. I should have cleaned my tub and shower stall!! CLR did clean my fridge with a quickness, I have to be happy about that. I might have to use CLR for my next week's tackle also. (I will wear gloves this time)