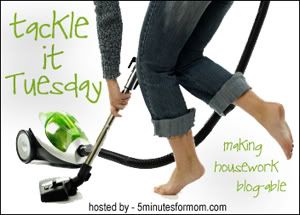 Finally, Tackle it Tuesday is here! We have been working so hard all weekend. I could have posted SEVERAL before and after pics of every room we cleaned! Instead, I will just show my 2 favorite tackles. We moved into this house a few months ago and every wall was WHITE! We had painters come in and paint the basement and kitchen, leaving the rest of the walls white. I had planned on painting the dining room next spring. Well, my hubby thought we should do it right away. Especially with the holidays coming up around the corner, he knew we would be having family over and eating in the formal dining room. So, here are our before pics of the white white dining room!


BEFORE
AFTER

I am SO glad my husband decided to do this now. I am very happy with the result! My husband did MOST of the work, but I helped. I went out and picked out the paint and brought it home, put up most of the tape and I painted one wall. LOL I removed the tape (Zach helped with that) and cleaned up the mess in the end. It was a family project!
My next tackle
The play room in the basement has a lovely framed ugly hole in the wall where the water shut off valves are located. Who thought to frame this ugly hole in the wall? Well, I guess it was framed to "mark the spot" of the very important water shut off valves. I had an idea to put something fun in the frame - something that can be removed when we need to get to the valves.
BEFORE:

AFTER:



I painted the frame red as all the colors in our play room are primary. The closet to the hot water heater was painted with the same color so I had plenty left over:) I used my Cricut to make the middle. I think I may add a few more monkeys. The nice thing about this is it is just paper on a foam board in the middle of the frame. I figure I can change the design from time to time to other fun sayings, words or pictures!

Happy Tackling!