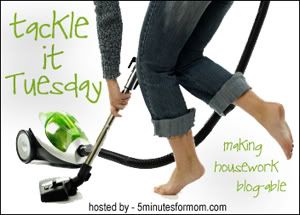 I don't really have a good "housework" tackle to blog about this week. I did however, tackle my daughter's bangs and I have a list of other projects to tackle!
Faith's bangs were so long, they were covering her pretty eyes. But I am no expert at cutting hair, in fact, I pretty much stink at cutting hair. Well, I decided that it was better for her to have crooked bangs and to be able to SEE!
BEFORE
AFTER

Not so bad. She sure was a good sport about it! Sat perfectly still, yet I still could not cut straight?!?! Oh well:)
Here is my list of tackles TO DO:
Make separate "to do" lists for all my separate projects I have going on! I will be using ListPlanIt.com
Catch up on the 100 days to Christmas challenge
Catch up on blogging! (sending some comment love)
Catch up on the last 3 weeks of my Bible study
Write and submit a story for the new Chicken Soup for the Soul book (DUE TOMORROW!!!)
Pay bills
buy groceries
pick up an extra shift or "find" some money so that I may register for an upcoming women's retreat. (I want to go SO bad)
Put together evites for 3 special events coming up!
Send my BFF a birthday gift:)
Last but not least, clean my house! I will be using my new CLR Bath & Kitchen cleaner and will post about it on next week's Tackle it Tuesday so I can enter to win prizes! You can read all about it here.