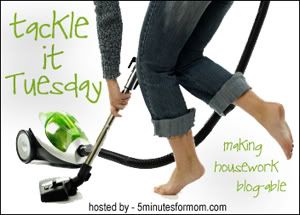 I am SO excited to start "Tackle it Tuesday" on my blog. I got the idea from
Courtney
who had found it at
5 Minutes for Mom
(awesome site BTW). Basically, you try and do 1 project a week and post before and after pictures on Tuesday. This is not only a fun little thing for your blog, but an ACCOMPLISHMENT!! Imagine that, a blog post turned accomplishment. Having moved into a new house, I have a LIST of projects to tackle, so I will have plenty to post about every week!
This week, my project was the basement. Especially the basement bathroom which has been neglected and unused since we moved in.
BEFORE
Plain - no shower curtain rod.
Messy - we just kept adding junk in there for when I could get around to doing something.
AFTER

AFTER
AFTER
So really the bathroom was my main "tackle it" project this week. But while I was down in the basement, I did do some other work.


I added the alphabet to the playroom. Just on the 1 wall - but I think I may get more and go around the room.
Cleaned up the basement, got rid of any junk, trash or boxes.
Our "media" room is finally unpacked and the way we want it to be. Simple and comfy. We are on the look out for framed movie posters to decorate this room with. Maybe some other "movie" decorations/wall hangings. I have seen stuff like that before - but now that I want to have that theme, I don't know where I saw it. LOL