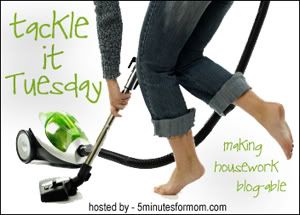 Ok, this is my 2nd week of Tackle it Tuesday and I think I am cheating already! I didn't really do the work here. But never the less, it was a project that we wanted to do. Scott HATED our kitchen counters. I have to agree - they were a pain. They were bubbled, had some burn holes, but the worse thing was how hard they were to clean. We would have to get out the magic erasers if a spot of kool-aid or coffee hit the counters. On to the pictures!

BEFORE: really before. Before the walls were painted which was the 1st kitchen project!
DURING - see? I am not even in there helping! But hey - I did have to remove stuff and then return everything after the job was done, AND I was entertaining the twins downstairs in the basement for half the day! Now that is something.
AFTER

This is beautiful Black Galaxy granite from
Pyramid Granite
. I am now IN LOVE with my kitchen! I am inspired to spend more time in there and maybe start making some meals from recipes instead of out of the box:) Hey, I might even bake!